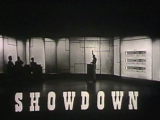 Aired
NBC Daytime, July 4-October 14, 1966
Run time
30 Minutes
Host
Joe Pyne
Announcer
Kenny Williams
Origination
NBC Studio 3, Burbank, California
Showdown was a game show which had two teams of three players, each team sharing a common bond, competing against each other.
Game Format
Edit
All six players would be read a multiple-choice question. Each player who locked in the correct answer scored one point for their team. Those who locked in with a wrong answer would literally drop out of the round via a trap door. After an entire team dropped out, the remaining members of the other team won a prize. The point values would increase by one point for each round.
The team with the highest score won $100 and answered the Triple Treat question, which awarded a bonus trip if the entire team locked in with the correct answer.
The show featured a teenage rock band known as the Bantams.
International Versions
Edit
Merchandise
Edit
Episode Status
Edit