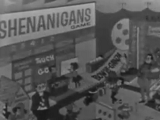 Aired
ABC Saturday Mornings, September 26,  1964-March 20, 1965 and September 25, 1965-December 18, 1965
Run time
30 Minutes
Host
Stubby Kaye
Announcer
Kenny Williams "Kenny the Cop"
Origination
Vine Street Theatre, Hollywood, California
Shenaigans was a game show.
Game Format
Edit
Much like Video Village, children stood on a giant game board. A button was pressed that stopped a set of flashing lights with the numbers one through four, and the children advanced on the game board that number of spaces. After landing on a space, the children answered a question or performed a stunt, earning "Shenaniganzas", scrips that could be traded for items from the Top Value Stamp Catalog. Possible prizes were also suspended from the ceiling in the studio.
Most of the spaces on the game board were references to popular board games by Milton Bradley (such as Operation), who served as the show's sponsor. In 1964, a board game was published by Milton Bradley as a companion to the show.
International Versions
Edit
Merchandise
Edit
Board Game
Edit
Milton Bradley (1964)
Episode Status
Edit